Holiday Wishes
We wish everyone
enough clothing to keep them warm,
access to a hot meal, and
to part of a community that cares for each other.
Doing our part:
Playing Santa – Providing Warm Clothing – the Gift of Warmth
This is the third year of our Gift of Warmth program, and we are grateful for everyone in our community for your support.
We have been collecting donations of used clothing and new essentials at our Vancouver since October 3rd. We will distribute these donations to our binner clients at a BBQ we are holding for them on Dec 15th.
The response has been terrific and we are excited to be sharing the haul! Thank you all!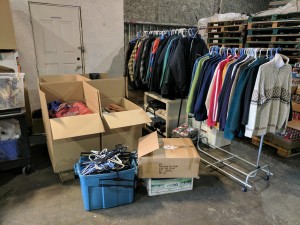 A Hot Meal
We provide our Vancouver clients with free hot coffee year-round. We also have Our Gift of Warmth BBQ for our binner clients Dec 15th.
Supported by the Binners Project, SPUD.ca, Mission Possible and Working gear, we will provide our binner community with a hot meal and the opportunity to "shop" items donated to our Gift of Warmth program. Any excess of donated items is provided to organizations like the Union Gospel Mission.
If you would like to play Santa with us this year, please bring your donations and join us on Dec 15th at our Vancouver Regional Recycling located at 960 Evans Ave.
A Giving Community
Our community gives year round.
We have donation bins at all of our depots to collect beverage containers for our charity of the month. This past year we supported Back Pack Buddies and Reach Child and Youth Development Society.
We also have donation bins in our parking lots that support local charities year, like the Developmental Disabilities Association round. If your cause would like to be a part of our program, or you know a worthy program please send them our way!
Our bottle drive program provides cash to organizations who collect refundable beverage containers and return them. We're one of the few bottle depots that provide full deposit value refunds for beverage containers. And that's not all, we have bottle drive contests that add cash to our bottle drive contest winners earnings!
Healing the Earth – and making it easy for you to do it too!
The Lotzkar family owns Regional Recycling and has been involved in recycling in Vancouver for over 100 years. We have a strong tradition of keeping recyclables out of landfills and helping the earth heal.
Over the years the types of items that we collect and recycle has grown and changed to include most items that can be recycled.
We'd like to wish all of you a happy and healthy holiday season! We look forward to seeing you at one of our depots soon!