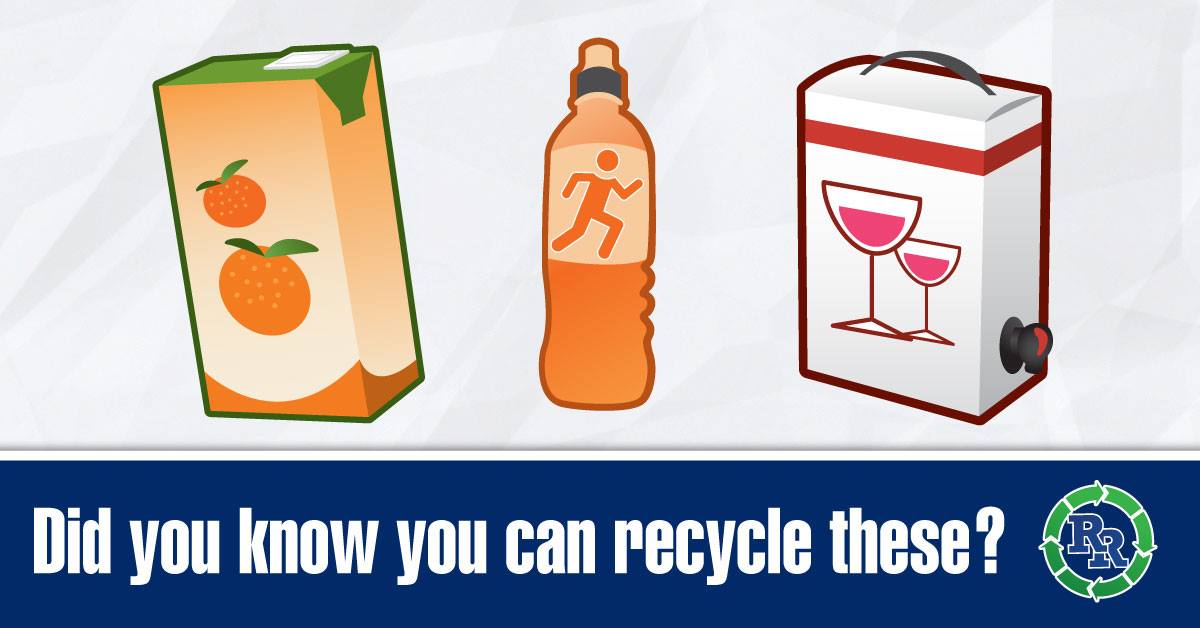 We are on a mission to improve beverage container recycling rates! If you take a look at the report from Encorp at the end of this post, you can see that we have a lot of work to do.
Overall, recycling rates of beverage containers need to improve, and there are a couple of categories that we need to do a much, much better job of recycling. The following beverage containers have the worst recycling recovery rates: Juice packaging – Pouch, Tetra Paks, Bag in Boxes and Plastic Bottles.
DEPOSIT REFUND 5¢

Drink Pouch Recycling

With only slightly over 46% of these beverage containers recycled, they have one of the lowest recovery rates of all beverage containers.

Many people don't know that they can be recycled, or that they can get a deposit refund when you bring them to the depot.

The plastic in these containers is separated out and can be mixed with other types of plastic to make park benches, bins and other sturdy products.
DEPOSIT REFUND 20¢

Bag in Box Recycling

Less than 50% of these beverage containers are recycled. With a deposit value of 20 cents, these are well worth recycling.

Large "bags" of wine in a cardboard carton, usually with a spigot for in-fridge use are easily recycled. Bring these in to the depot as complete units. Recyclers take care of separating the plastic interior from the outer cardboard for the separate recycling processes.
DEPOSIT REFUND 5¢

Polycoat/ Tetra Pak Recycling

About 51% of small juice boxes and less than 40% of small gable top boxes are recycled. Part of the reason for this is that many people are unaware that they can recycle the containers called Tetra Paks.

They also don't know that these containers that are used for non-dairy milk-like products, children's juice boxes and other beverages can be returned to Regional Recycling for a refund.
DEPOSIT REFUND 

5-20¢

Plastic Bottle Recycling

About 75% of the plastic bottles sold are recycled. While that sounds pretty good, that means over 250,000 units a year are thrown in the garbage or end up in the oceans.

These familiar plastic soft drink and water bottles, as well as clear or tinted, opaque plastic, and vinyl juice containers can all be recycled and returned for a deposit refund.
DEPOSIT REFUND 20¢

Polycoat/ Tetra Pak Recycling

While large drink containers and gable boxes have a higher recycling rate than their smaller versions, the recovery rate of these items is still under 76%. These containers do note biodegrate and need to be recycled in order to ensure that they do not end up in a landfill or our oceans.

In BC, you pay a deposit every time you purchase a juice drink box. You receive all of this deposit back when you return your clean used juice boxes to any of our 8 Regional Recycling bottle depots in BC.
To see the value of all of your beverage containers check out Can I Recycle This Container?
You can also read more on the Encorp – Return-It Website.
How to Recycle Beverage Containers
Rinse out all of your beverage containers before recycling. Flatten juice boxes. Caps off, labels on, straws out. Leave the bag in the box.
Please note that rice, soy or almond milk containers are accepted at our bottle depots for recycling, but not for refund.
FAQ's about Beverage Container Recycling
Q: What happens to these items after they're returned to Regional Recycling?
First, the cartons are picked up by Encorp – the Steward for the products. Then, they are shipped out to a variety of sorting and recycling locations throughout Canada and the US.
Q: Why return these containers to Regional Recycling when I can put them in the blue bin?
The best reason for this is to get your refund back! You get back the deposit paid when you purchased the beverages. Whether you drink a little or a lot, you'll be surprised how quickly the money adds up!
Q: Does Encorp ensure that my beverage container recycling has a net positive impact on the environment?
As an environmental stewardship agency, Encorp Pacific (Canada) is responsible to regularly monitor the entire beverage container recycling process in BC.