Can I recycle my …? List of obscure products you can recycle at Regional Recycling
"Can I recycle my …?" is a question that we hear, often! Recycling has gotten a lot more sophisticated in the last number of years, and the items that you can recycle has grown considerably. It seems there are far more things that you can recycle than ones that you can't these days. Or maybe that's just our perception because you can recycle all of these items with us!
Earlier this year we published a post about container recycling called: 'Can I recycle this container?' where we shared container recycling information. We'd now like to share some information on some other items that you can recycle that may surprise you.
We'd like to thank ReGeneration for providing this list. They are a stewardship that manages the recycling of all the products below.


Paint-related products
By now, many people know that paint can be recycled. There are also a lot of other paint-related items that can be recycled as well. For example, you can recycle:
already empty paint containers
deck coatings
non-tar based driveway sealer
wood finishing oil
primers and undercoats
Household Hazardous Waste related products
Generally speaking, we all tend to view household hazardous waste products like the ones listed below as non-recyclable. I know that I did. But, these products can be recycled, and due to their extremely hazardous to the environment nature, they should be!
camping fuel
paint thinner
bbq lighter fluid
fondue fuel
acetone


Lighting related products
We are all pretty aware of the fact that light bulbs and lighting fixtures can all be recycled. But there are some more obscure items that are lighting related that can be recycled as well.
bike lights
chandeliers
Christmas lights
solar-powered lights
UV/germicidal bulbs

Smoke alarm products
If you are familiar with Regional Recycling you likely have seen our blog post on how to recycle smoke alarms. We've also sponsored a contest or two to encourage recycling them too! Due to the fact that smoke alarms and carbon monoxide alarms have a small amount of radioactive material in them, these items really do need to be recycled with us!
smoke alarms
carbon monoxide alarms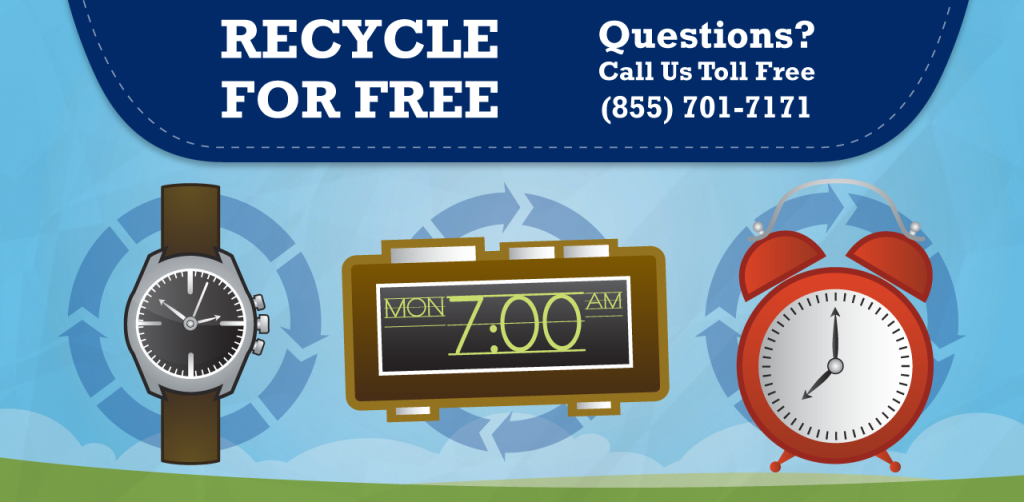 Small home appliances
Generally speaking, if it plugs in it can be recycled. While we recommend donating working items, and repairing worn items if they are beyond repair you need to recycle your small electronic devices in all areas of your home!
This includes your small kitchen appliances like:
bread makers
chocolate fountains
egg cookers
panini presses
yogurt makers
waffle irons
airbrush equipment for makeup or cake decorating
pod coffee makers
Clocks and watches can all be recycled too!
grandfather clocks
wrist watches
robotic vacuums
Can I recycle my craft equipment?
Yes! If you are a crafty sort, your old crafting items can be recycled too!
embroidery, knitting, and sewing machines
yarn ball winders
glue guns
pottery wheels
Even these odd little items are recyclable!
bug racket zappers
fog machines
rock drillers
drills
And so are other sports and hobby related products like:
cycling and elliptical machines/treadmills
golf or baseball swing analyzers
scuba masks
pool alarm systems
binoculars and telescopes
We all have all kinds of personal care items that can be recycled when they reach the end of their life. There are probably one or two of them hiding in your washroom vanity!
flossing devices
hot rollers for hair
food and bathroom weight measurement scale
clothing steamers
*Products must be electric, with a power cord, or have battery capacity
All types of outdoor home maintenance items can be recycled, and now that summer is gone we might as well see what tools can be recycled!
ice drills
lawn aerators
pressure washers
mulchers
garden shears
snow blowers
wood splitters
Most people know to recycle large appliances, but did you know that your built-in and portable appliances can also be recycled?
(complete list of products here)
trash compactors
room and portable air conditioners
food waste disposers
range hoods and downdrafts
wine coolers / beverage centers / beer kegs with cooling/preserving/dispensing functions
All of these items listed above can be recycled at one of our 8 Local Regional Recycling Bottle Depots near you! Stop by with your recycling and learn why we are your One Stop Recycling Shop! We look forward to serving you soon.